About the Program
The New Levant Initiative was honored to present distinguished trumpeter and composer Ibrahim Maalouf in the world premiere of his impassioned composition, Levantine Symphony N°1.
Heralded by The New York Times as a "virtuoso of the quarter-tone trumpet," Maalouf gracefully marries musical traditions from his native Lebanon and his adopted France, blending Levantine melodies with modern jazz improvisations. In 2016, he performed at the Lincoln Center, alongside pianist Frank Woeste, saxophonist Mark Turner, bassist Larry Grenadier, and drummer Clarence Penn, in an unforgettable tribute to Oum Kalthoum, the legendary Egyptian vocalist.
The New Levant Initiative commissioned Levantine Symphony N°1 to celebrate the vibrant and shared identity of the Levant. Maalouf describes this musical composition as an ode to the Levant. Built as a hymn of sorts – both delicate and powerful, both Near Eastern and influenced by the West – it seeks to link all of the Levantine cultures in their commonalities and modern spirits.
There is a global culture that the Levant recognizes, embraces, and interacts with. And so this contemporary symphony is rooted both in tradition – in classicism and in the values that shape its identity – and in modernity, in the popular cultures of our age that are universal.
Maalouf's musical vision, virtuosity, and ability to synthesize the true essence of Levantine identity embodies the openness and creativity of the Levant. With his new work, Maalouf weaves together the threads that bind the people of the Levant together not only in music and poetry, but also in a shared collective identity and memory, with the hope that a progressive and integrated new Levant will thrive once again.
Jamal Daniel and the New Levant Initiative are proud to present Ibrahim Maalouf's "ode" to the New Levant. We thank you for joining us.
Levantine Symphony No. 1, Ibrahim Maalouf

The world premiere of Levantine Symphony No 1, composed and performed by Ibrahim Maalouf for the New Levant Initiative on March 1, 2018 at the John F. Kennedy Center for the Performing Arts, Eisenhower Theater in Washington, D.C.
Ibrahim Maalouf

Composer and Trumpeter

Born in Beirut, Lebanon, in the midst of the Lebanese Civil War in 1980, Ibrahim Maalouf has today emerged as the most popular instrumentalist in France – and his work has been recognized worldwide for over 10 years. Trained by his father in both traditional Arab music and Western classical music, he was the winner of major international classical trumpet competitions (in the U.S., Hungary, France, Finland, among other countries), embarking on an inspiring career as a classical music soloist at the age of twenty.

During his studies at the Conservatoire National Supérieur de Paris, he developed a strong interest in jazz classes that encouraged improvisation. Soon after, Ibrahim established himself as a figure to be reckoned with on the French music scene and in World Music as a whole. Sting, Salif Keita, Amadou & Mariam, Ibeyi, Marcel Khalifé, Vanessa Paradis, Alfredo Rodriguez, and many other artists with a broad variety of styles drew upon his highly distinctive musical sound.

In 2007, after being rebuffed by established record companies, Ibrahim created his own independent label and released his first album, Diasporas. Its success helped him to create his subsequent albums.

Between 2007 and 2017, Ibrahim produced, composed, arranged, and released more than 15 albums for himself and other artists. He has received four Victoires de la Musique awards (the French equivalent of the Grammy Awards). In 2016, he won a César de la Musique de Film (the French equivalent of Best Film Score at the Academy Awards) and a Prix Lumières (comparable to a U.S. Golden Globe) for best film score. He made a major impression at a historic concert (sold out 6 months in advance) held on December 14, 2016 at France's largest concert venue, the Paris-Bercy AccorHotels Arena. Today, Ibrahim continues to work with renowned world orchestras, children's choirs, and other groups, at the highest level of musical excellence and creativity.

The National Children's Chorus of the United States

The National Children's Chorus of the United States, under the leadership of Artistic Director Luke McEndarfer and Associate Artistic Director Dr. Pamela Blackstone, is quickly establishing itself as one of the world's leading treble choruses, with nearly 700 students in 18 ensembles, based in Los Angeles, New York City, and Washington, D.C. Collaborating with some of the finest music companies in the nation, the group has performed live with the Los Angeles Philharmonic, Los Angeles Opera Company, Los Angeles Master Chorale, Hollywood Bowl Orchestra, Joffrey Ballet, Kronos String Quartet, New York City Master Chorale and American Youth Symphony, among others. Its groundbreaking season 2017/18, titled Building Bridges, features exquisite repertoire including notable premieres at Walt Disney Concert Hall, Royce Hall, Carnegie Hall, Lincoln Center and the Kennedy Center. In July 2018, the chorus will make its 4th major international tour to Germany, Austria, Czech Republic and Hungary.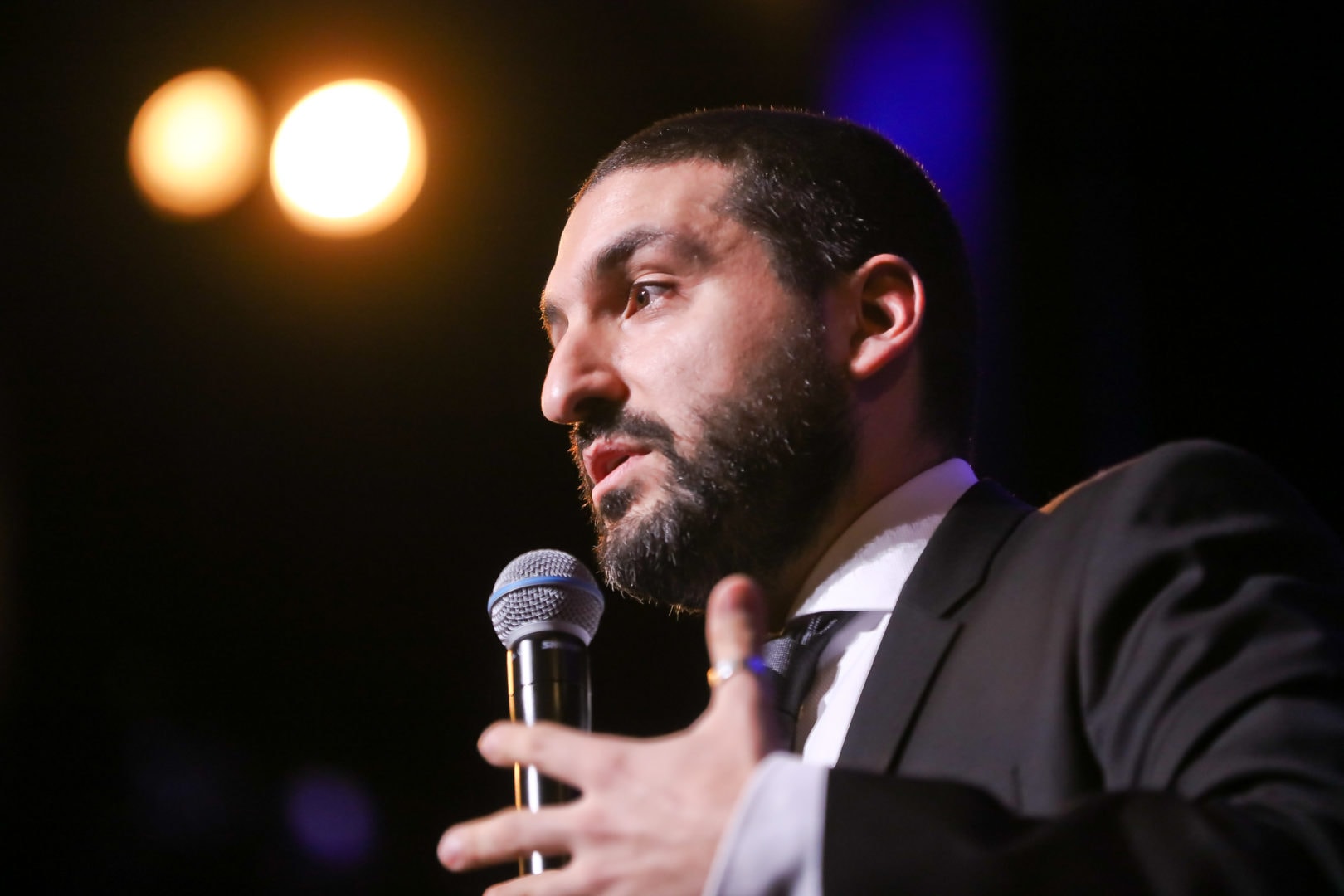 Composer Ibrahim Maalouf introduces the symphony.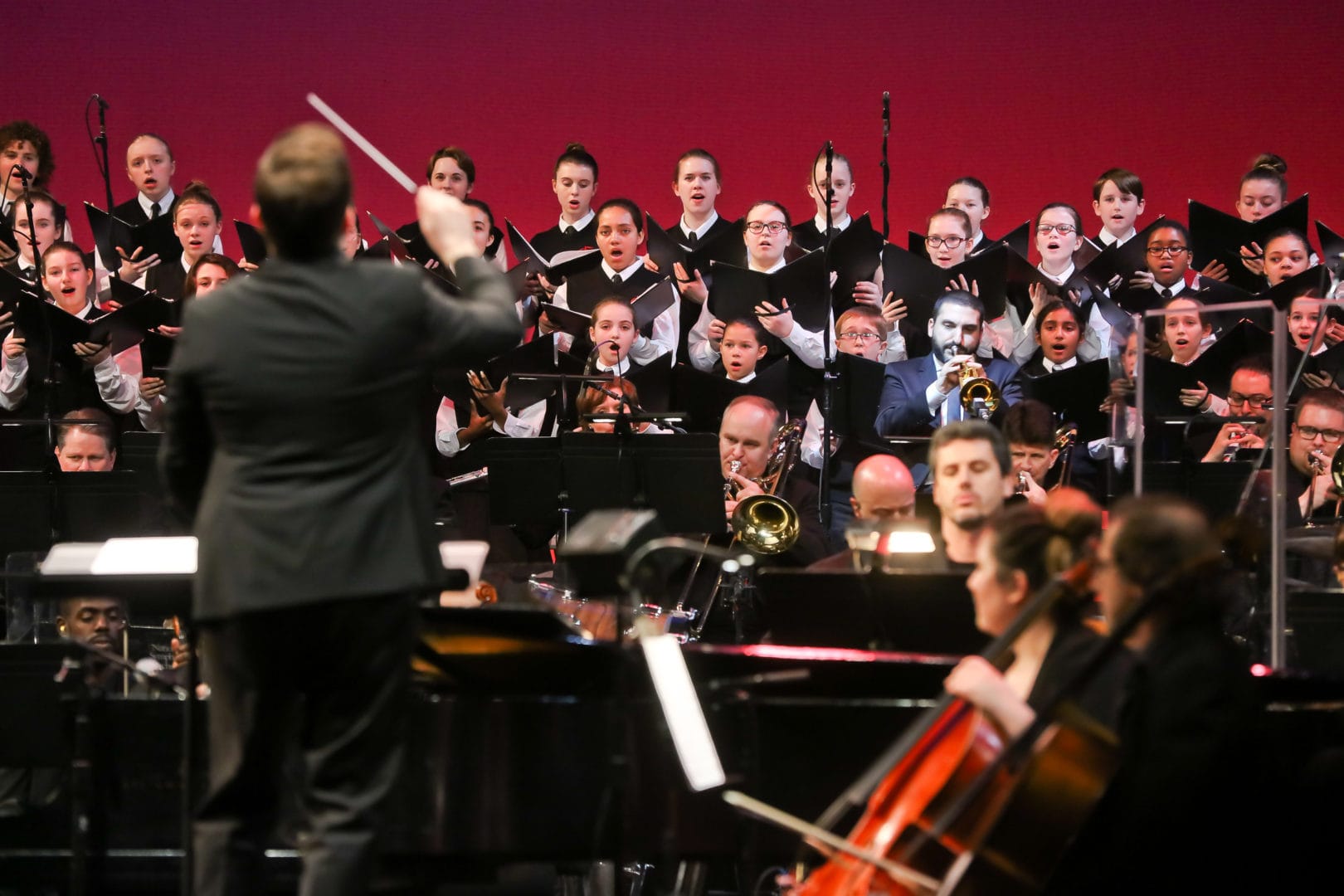 Michael Rossi conducts the orchestra, along with Ibrahim Maalouf (center-right) and the National Children's Choir.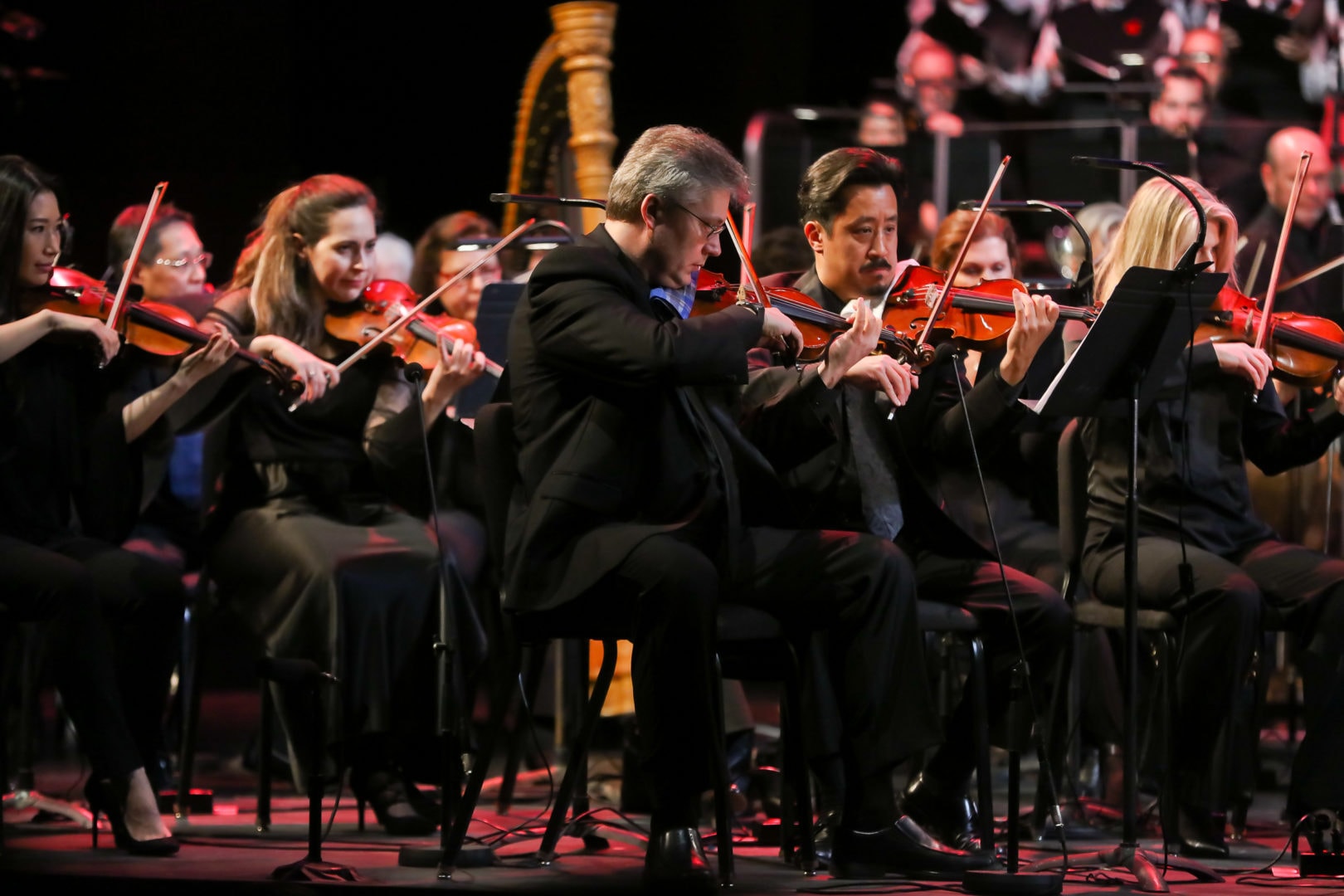 The strings section of the Free Spirit Symphony Orchestra.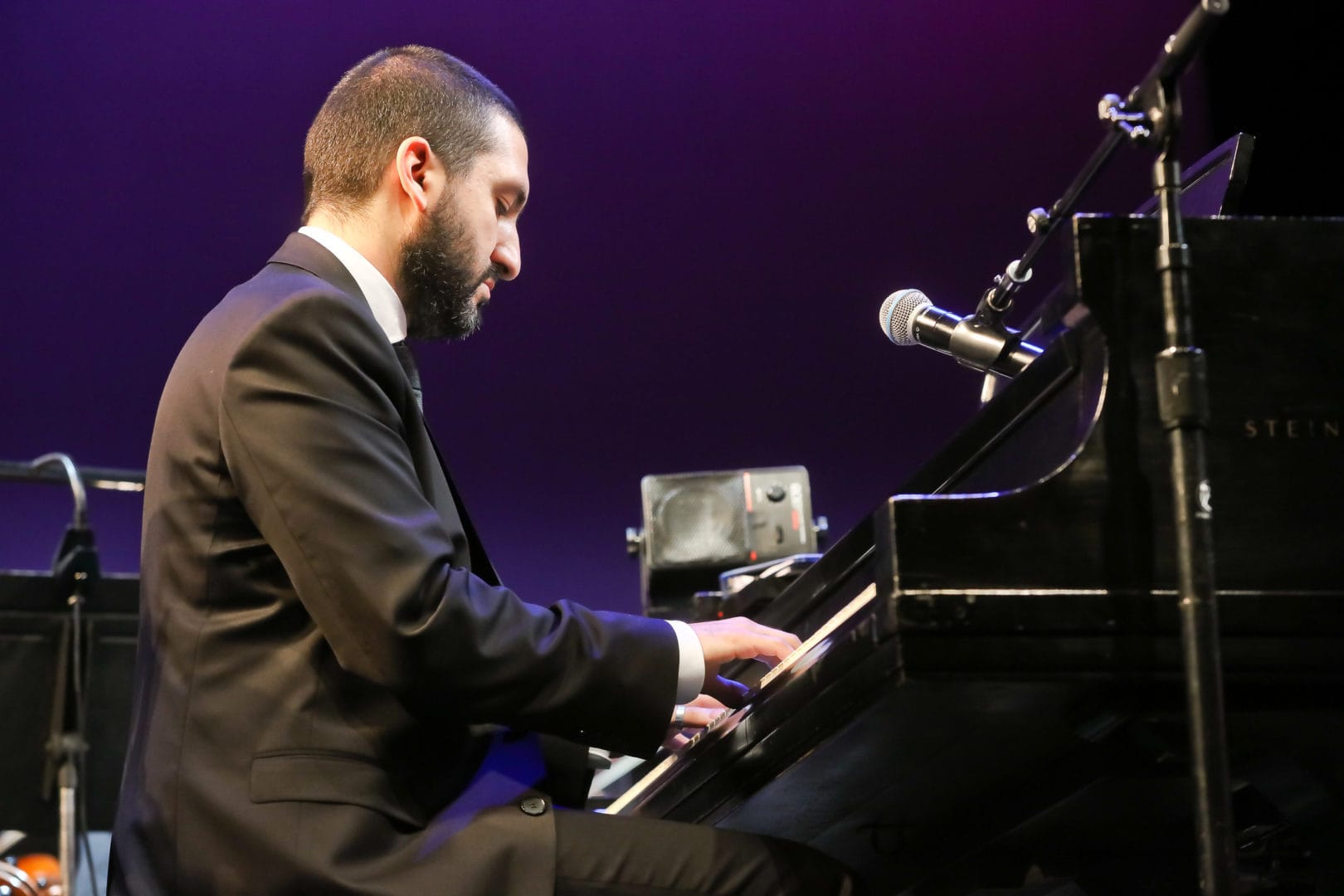 Ibrahim Maalouf performing on the piano.
The strings section of the Free Spirit Symphony Orchestra.
The strings section of the Free Spirit Symphony Orchestra.